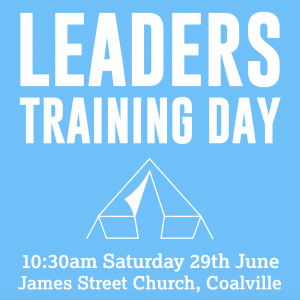 WEC Camps Leaders' Training Day – Saturday 29thJune 2019, James St Church (Full Gospel Mission), Coalville, LE67 3BX
This Training Day is for all those who are going to be involved in camp in whatever capacity.
It is designed to help you to be prepared for camp, spiritually and practically, with sessions like 'how to look after your tent; lead a group quiet time; learn the camp routine' and to get to know each other, plus times of reflection and prayer.
The programme will start promptly at 10:30 am on Saturday and will end at 5:45 pm. Refreshments will be available from 9:30 am onwards.Lunch will be provided.
The programme will run through the whole of Saturday with a mix of practical, discussion and devotional sessions with prayer and an opportunity for questions and answers. There will also be space to get to know others.
There is no set cost for this event but there will be an opportunity to make a contribution if you wish.
It is very important that you attend this Training Day and essential if you are joining us for the first time.
(Anyone attending camp for the first time who is unable to attend this day should contact us immediately so that we can make alternative arrangements for your orientation.)
Please make every effort to come as we pray and prepare for camp together.
If you have not already done so, please let the office know you are coming!
Directions to James St Church (Full Gospel Mission), Coalville, LE67 3BX
Note that the church is at the bottom of a cul-de-sac with parked cars either side of the road. Parking is available at the church and also on street or at the pay & display car park at the opposite end of James St.
The church is approx 12 minutes from either M1 J22 or A42 J13.
From A42
Follow the A511 into Coalville and when at the roundabout with McDonalds on the right then turn right towards the town centre.
At the clock tower traffic lights proceed straight over onto Belvoir Rd.
After the mini roundabout turn right into Owen St)
Turn first left into Gutteridge St
Turn first right into James St for the church or first left for the pay & display.
From M1
Follow the A511 into Coalville and when at the forth roundabout after the M1 then take first exit, signed Scotlands Industrial Estate.
At the second set of traffic lights (clock tower to your right) turn left onto Belvoir Rd.
Continue from 3. above