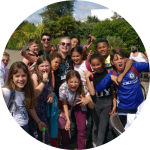 Warrior camp offers fun, adventure and something deeper for all those aged 9 to 13. Everything we do on Warrior camp is designed to help young people explore God and faith, whilst enjoying some first class fun. The camp has a unique blend of activities, teaching from the Bible, and focus on world mission.
Camp runs for two weeks in fantastic UK seaside location – For 2023 we are heading to Criccieth in North Wales!
If you would like to get a taste of what camp is like, have a look at WEC Camp Everywhere.
What WEC Warrior Camp normally looks like
So what exactly does camp offer? The camp day is split into three main areas of Bible teaching, activities and learning about mission.
Bible teaching
The Bible teaching is both exciting and interesting. If you want to know more about God and how God wants to use you every day, then the teaching on camp is perfect for you. Not only is it life-changing, it is also fun and engaging. The worship times are lively and exciting and the teaching includes sketches, quizzes and many other activities to make these times that you will never forget.
Activities
After the morning meeting it's time for activities both on and off the field. These include swimming in the sea (only in an organised party with a qualified lifeguard), football, basketball, free time and a wide choice of other games.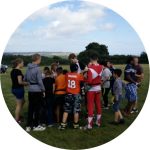 For those who want to be more creative, there is an excellent craft tent, where you can be involved in activities such as; making clay models, painting glass, making friendship bracelets, and hair braids. There are also special sessions on offer, which include; creating movies, photography, dance, puppets and singing. All our activities are a great time to meet and make new friends.
The afternoon usually involves everyone in a wide game. These are large-scale team games, and are great fun with lots of different elements to engage all players.
Mission meetings
In the evening we have a time of worship together, followed by session with our guest missionary. These meetings are always fun and really show what God is doing around the world. There is usually an opportunity to taste world food, learn a song from another culture and to dress up!
Food on camp
Food on camp is excellent with at least two hot meals a day, including all your favourites; pizza, steak pie, sausages, pasta, sticky sponge pudding, crumble and much more. There is fresh fruit and drinks on offer at all times, and if you still feel a bit peckish then you can visit the camp tuck shop. Camps can cater for most dietary requirements – please get in touch to discuss your individual needs.