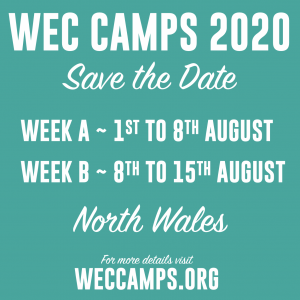 WEC Camps 2020 will be heading to the beautiful North Wales, for a summer of fun, adventure, worship, mission and more!
Week A will run between 1st and 8th August
Week B will run between 8th and 15th August
Prep Week: 25th – 31st July, Rear Guard 15th – 15th August.
WEC Camps are not just for young people, lots of adults join the action every year in a variety of roles, including: tent leader, kitchen team, maintenance, life guard, helper, prayer support, mission teacher, set up & pack down crew, Bible teacher, and much more!
If you would like to find out more about serving God on a WEC Camp next summer, get in touch!
Bookings will open later in the year, watch this space – brochures will be sent out as soon as they are printed.
Have a look at the Promote Camps page for lots of resources to help you spread the word.
Dates and location subject to final confirmation
See you next summer!