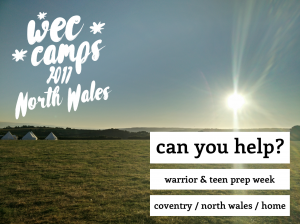 Camps are looking for people to get involved with all of the prep week tasks, including loading lorries, setting up tents, plumbing, lighting, cleaning, maintenance and of course, praying for the weeks ahead.
19th to 20th July, Load the lorries in Coventry
20th to 27th July, Unload lorries and set up camp in North Wales
Help is also needed at the end of the summer. Teen camp will begin pack down on Saturday 12th August, and Warriors on Saturday 19th August.
If you can spare an hour, a day or a week, please contact the office, we would love to have you on board.
If you can not make it to Coventry or North Wales, please join us in praying for the loading, the set-up, the young people, the leaders, the equipment and the pack down. We are expecting God to do great things this summer!