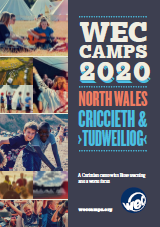 The new WEC Camps brochure is out now! Printed copies are being sent out but if you cant wait that long, you can check it out right here. If you would like a more brochures to give out at church, school or work, please get in touch with the office today and we will get some out to you
Bookings are now being taken for camps 2020 – now is the time to secure your place! Campers and leaders spaces can be booked using the online form, as well as by phone and by post. There is even an early bird booking discount!
If you need any help with your bookings or would like more information about what coming to camp as a child, helper or leaders, please get in touch.