Today is the first of our Monthly WEC Camp Leader Profiles – Giving you a chance to see what the team are up to when they are not on the field!
Introducing Jessica!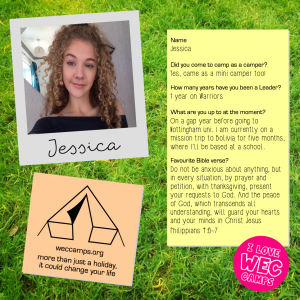 Name: Jessica
Did you come to camp as a camper? Yes, came as a mini camper too!
How many years have you been a Leader? 1 year on Warriors
What are you up to at the moment? On a gap year before going to Nottingham uni. I am currently on a mission trip to Bolivia for five months, where I'll be based at a school.
Favourite Bible verse? Do not be anxious about anything, but in every situation, by prayer and petition, with thanksgiving, present your requests to God. And the peace of God, which transcends all understanding, will guard your hearts and your minds in Christ Jesus. Philippians 4:6-7