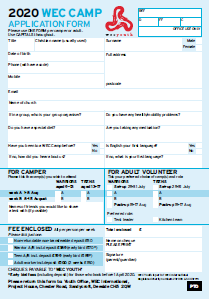 Download 2020 Application form
Complete the form and enclose a check payable to WEC Camps for the deposit or full fees, and post to:
The Youth Office
WEC International
Project House
Chester Road
Sandycroft, Deeside
CH5 2QW
Online booking
You can now book into camp using our online booking service.
Card Payments
We can take card payments for deposits, balances and full fees over the phone. Please complete a postal or online booking form and then call 01244 537934.